Famous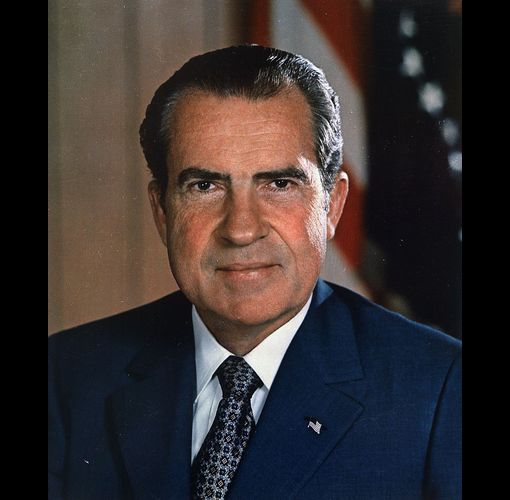 Hover over image to change
Ex-US President Richard Nixon
Apple founder Steve Jobs
Credit: Richard Nixon by US Govt / Steve Jobs by Matthew Yohe -
CC 3.0
Once you know what to look for, looking at noses of famous and semi-famous people in the news may prove enlightening, for you can correlate their public persona with their face. Going a step further, looking at noses of people in the past may also be educational. Some of us base our belief systems on the work / beliefs of prominent people in the past, nevermind the present. Just on learning to read noses alone, you may reconsider what you thought was true...
Famous people are useful because there are many photos of them from when they were young to when they became older. We'll leave it to you to look for those images - they are easy to find. You can notice definite nose growth with some of them. In other words, earlier in life they were more honest, but as pride increased, they became more dishonest.
Regarding the two images on the left - Richard Nixon was a former US President who is famous for resigning over an incident called Watergate. Really, does anyone make it to the top in politics anywhere without telling a few lies? What do you think? His nose is large and pointed. Some Taiwanese noticed it.
Steve Jobs is famous as the founder of Apple. Many people look up to him as a God of sorts, in our opinion. His nose toward the end of his life is very pointy. Click here for a larger image of the one on the left. How much do you know about his explosive personality? Anger issues. His dark energy (internal stress) affected his health. If he could have waved a magic wand to live a much longer and healthy life but had to give up some of his fame / wealth / material riches - how much do you think he would have given up? 10%? 20% 50%? 75%? 90%? 99%? (1% of the billions he had would still be a lot for most) He is famous for promoting the iMac, iPod, iPhone, iPad, iCloud, i-everything. I-I-I, Me-Me-Me. Learning about EMF and mobile phone / wireless technology might be useful for your health. It's always what "they" don't tell you, or rather, the questions you don't think to ask, until later, if ever. "They" may not even know. Blinded by their own swollen intellect they may be. Here's another useful video.
Here are some noses of some famous dead people that we have noticed. This is a random and not so random list. :) Sorted by death date.
---------------------------------------------------------------------------
Some may find it odd to include the individuals above together, but we are trying to show that being dishonest affects people of all walks of life and levels of success. Besides, if you accept Mind / No Mind - there are no heroes. Just people / souls that have affected you more or less.
[ Future additions/analysis (On a separate page or video) will include more sculptures from individuals in the past. Like Julius Caesar and other notable Romans - like Crassus, Cicero, Pompey, Nero, and Augustus. Everyday Romans that are found in mosaic tiles. Also portraits of people like - Shakespeare, Mark Twain, Christian apologist and author CS Lewis, Isaac Newton, and famous painters such as Van Gogh. Others include Gandhi, Mother Teresa, and "Honest Abe" - Abraham Lincoln. Also various Kings and Queens. More religious figures like Imams. More African and Asian figures. More women. A complete picture to see how pride operates throughout history and at many levels of society, all over the world. Portrait Painting.]
- Emperor Constantine - man who put modern day Christianity on the map. You don't think he lied about something, do you? His nose says he wasn't honest about something. Besides, what kind of person builds a 40 foot statue of themselves! You might find this documentary interesting - The First Christians (PBS) (Photo credit: Jean-Christophe Benoist / CC 3.0)
- Leonardo Da Vinci - considered a genius by many. There are many VERY intelligent people in our world, with high IQs - but their EQ is in the dumps. Not only that, but their intelligence is often specialized! Meaning not seeing the big picture as well, so perhaps, not so intelligent at all.
- Sir Francis Drake - captain of second successful (continuous) voyage around the world, and first Englishman. A hero to many in the UK. A pirate to others. Treated his enemies (that he didn't blow to smithereens) well by all accounts, enlightened for his day. Knew Queen Elizabeth I well - another elongated, and starting to hook, nose. Drake played several instruments while sailing.
- Wolfgang Amadeus Mozart - first "rock" star? Music can be beneficial, to a point. Because after all, what you find good, is not good for others. Which might make you ask the question - why are particular melodies / song notes enjoyable for some, but not for others!? A painting of Wolfgang in his later years seems to show less of an elongated nose. As they are paintings and not photos, hard to say which is more accurate - or did it shrink? Difficult personal life despite musical success. More popular post-humously than in his own time. Master of sound as it related to feelings, but not feelings themselves. Mozart spent about 1/3 of his life traveling. What Mozart Really Looked Like
- Charles Darwin - proponent of natural selection / evolution - could his pride have blinded him in his interpretation of his observations? Or his sadness? Maybe you know, grief can cloud our thoughts. See Alfred Russell Wallace - multiple discovery. Quantum Entanglement?
- Andrew Carnegie - supporter of libraries, church organs, and music halls. Father of modern day philanthropy, 2nd richest man ever behind John D. Rockefeller after selling Carnegie Steel. Tried to BUY PEACE in the world - that was a failure even with all his money. Yet, people continue to this day to try and BUY peace (and health) externally and internally. Money helps, but only so far. One could argue he set a foundation for the present day United Nations. Photo above shows a large bulbous nose in his older years. Larger than when he was younger. Spent a lot of effort accumulating wealth, and a lot of effort getting rid of it - conflicted. Wrote a lot of books, thought he was wiser than others. Pride of knowledge / intelligence. One of the most well connected men of his time. Carnegie traveled around the world (wrote a book on it), and traveled extensively in the USA and Europe during his life. Carnegie was good with sound in his earlier years.
- Marie Curie - winner of 2 Nobel Prizes. How much did her pride / work ethic prevent her from leading a more balanced life? Melancholic disposition. How much do you know about the history of one of her greatest discoveries - Radium?
- General Patton - elongated nose. What is the military structure all about?
- Albert Einstein - lived with several major regrets. Understood physics and math. High IQ, lower EQ.
- Princess Diana - considered beautiful by many, but she had a tormented love life, did she not? When we pay too much attention to external distractions like jewelry and titles, we may not notice the facial clues. Also, when we remove makeup, a truer picture emerges. "She had a bit of a big nose." (Daily Mail)
- Yassar Arafat - How about his efforts at achieving peace for the region? Easy to get distracted by his headscarf. Focus on the nose! This photo shows a child standing behind a younger Arafat. The child doesn't have a pointy or large nose at all - Arafat does. (Photo Credit: World Economic Forum / CC 2.0)
- Pope John Paul II - a Saint eh? Becoming a saint apparently has a low honesty threshold. Who wants to look at the noses of all the past Popes - since there are paintings or photos of pretty much all of them. (Photo by WC Peace)
- Saddam Hussein - leader of Iraq for a long time. Notice how in his photo from 1979 --> 2003 his nose and nostrils are much larger. Over the years his pride and self-consciousness grew dramatically. (Photos by Iraq News Agency and US Govt)
- Muammar Gaddafi -leader of Libya for a long time - died like this. One of his heroes was another man with a large pointy nose - 2nd President of Egypt - Abdel Nasser. His eyes are very narrow, along with a large nose. (Photo Credit: Agência Brasil / CC 3.0)
Alive
Individuals who are alive with noses we've noticed (actually, they are just names that came to mind really - don't read too much into it) include: (All links to Wikipedia unless noted)
actor Hugh Jackman (People) - newspaper mogul and businessman Rupert Murdoch - Microsoft founder and businessman Bill Gates - former US President Bill Clinton - business guru Tom Peters - musician Madonna - scientist / tv actor Bill Nye - investor George Soros - Indian actress Aishwarya Rai - former Pakistani cricket player Imran Khan - current Dalai Lama 14th Dalai Lama (slightly elongated, best of most of the names in this group) - evolution proponent Richard Dawkins - director Steven Spielberg - spiritual book author of Chicken Soup series Jack Canfield - motivator Tony Robbins (Business Insider) - spiritual guru Deepak Chopra (Oprah) - actor and martial artist Jackie Chan (Jackie Chan is interesting as many Asians have smaller noses, but due to fame, his nose has grown)
Famous smaller noses
former UN Secretary General
Ban Ki Moon
- President of South Korea
Park Geun-Hye
- Former leader of China
Hu Jintao
- Former leader of China (dead)
Mao Zedong
- a lot of people could be listed, but we've been too distracted by those with larger noses!
Those with smaller noses often have narrower eyes - see appropriate section in EYESIGHT. Just like many East Asians, feeling #6 and #7 dominate over feelings #1 - #5. Pride comes in many forms. Speaking of political leaders, Barack Obama doesn't have a large nose, but he sure does have narrow eyes, and big ears - what does that mean!? (Actually, we don't know what, if any, is the meaning of big ears yet - maybe somebody will enlighten us someday) [Meaning to be explained later] Of course, everything is a matter of perspective - so maybe you would prefer a large nose. Beauty is in the eye of the beholder - babies be damned.
Final Thoughts
In general, men have bigger noses than women, because women have been oppressed for longer, their egos held in check. Many women who have been rising to the top, do have enlarged noses. There are also many women who are considered "hot and attractive" that have elongated noses - just type in the names of famous living fashion models and see for yourself - like Gisele. And speaking of women, where else did the stereotypical witch nose come from? Again, beauty is in the eye of the beholder - see Hugh Jackman on People Magazine's Cover for Most Sexist Man Alive. Really? People who are less honest can "do positive" things or be "nice and generous to you and others" -- but their darkness contributes to our overall darkness, nevermind just the people close to them. It could be affecting someone influential and causing them to do dark things. Since we all have pride, we all contribute to the darkness of the world - until we learn how to purge it - rapidly.
To often be "successful" and/or "normal" in our world (= age of man) today and in the past, many think pride is required - implicitly or explicitly. Or to help us not feel bad about ourselves - lying to our inner core. Telling lies to get ahead or to maintain a certain image. To have a successful or materially rich life. --> To have a 'successful' soul at peace, and longer lasting mental and physical health - that is another story. (Incidentally, Steve Jobs believed in past lives and a soul - what do you think he would say to himself in this life from his future life, if he could - but maybe reincarnation isn't true, after all, Steve Jobs has had an elongated nose for much of his life - what do you think? If it is true, where do you think liars and dishonest people get reincarnated? Could it be --> countries which score low on honesty!?? Do you know the names of the fastest growing and/or most populous countries in our world? Like attracts like....re-in-car-NATION)
On this page we've identified dishonest people (liars) at the top of industry, 3 / 4 major religions (we'll expose the 4th one - Hinduism soon, as well as many/all other minor religions), "science," those who believe in just evolution, military, social life, and politics, throughout history - just by looking at the nose. Thought leaders.
Some of what a dishonest person says may be "true" - the question is what? If you know them well, you probably have a good idea. If you only know them through books, video, print, the internet, or at a distance in person - much less. If they aren't truthful about certain parts of their life - should you trust their opinions about other subjects? That is for you to decide. And what may be "true" for you at a moment in time, may not be "true" later as circumstances and requirements change, and as your experience of what is possible / not possible changes.