!!!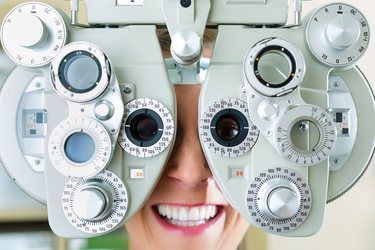 1st image - a phoropter
2nd image - snellen chart
Credit: Shutterstock
There is an expression in English that "Hindsight is 20 / 20." It means, upon further reflection, a better choice could have been made. If I knew what I know now, I would have made different choices in my life. For some choices, ignorance was bliss, until I realized it wasn't. Everyday is a new day to make different choices. With that said, 20 / 20 is also thought of by many as having 'perfect vision.' Students of eyesight know that 20 / 20 is more like "average normal" vision. But, normal in one place, may not be normal in another place / country. And what is normal for one age range, is not for another. Regardless, our eyesight can be much better than 20 / 20. [As far as I know, there is no similar expression for the metric equivalent - 6 / 6]
Why is this section titled - Better than 20 / 20? Because I fully expect my vision to improve to better than 20 / 20. As a child I remember being told in 7th grade that my left eye was 20 / 10 (was it even better?), and my right eye was about 20 / 80 or 20 / 100. I realized then why I struck out so much in fast pitch baseball a couple of years earlier (I was great at t-ball). I know my eyesight in my right was better when I was even younger because I recall winning an award at summer camp for bow and arrow (2nd/3rd grade?). Due to dark energy then, my eyesight gradually worsened. The more I remove this dark energy, the more my vision has reverted back to an optimal state. Read the next tab to learn about optimal vision.
In the book I mentioned how my eyesight has improved dramatically without lenses / (laser) surgery, just like Amanda wrote in the Epilogue. In this section I will be providing proof of my physical eyesight improvement - order receipts, optometrist visits, and photos of newer / older glasses. It's an on-going story, that you can participate in! The word - impossible - as it applies to changing your physical vision for the better (among other physical and mental improvements), can be a word that you relegate to another time and era, the one that you will leave behind.
Old - New - % visual acuity (focus) improvement. From early 2011 - August 2019.
| Eye | Old Diopters | New Diopters | Astigmatism | % Improvement |
| --- | --- | --- | --- | --- |
| Left | -1.25 | -0.50 | -0.50 | 60% improvement |
| Right | -3.75 | -2.25 | -0.50 | 40% improvement |
The primary physical change has occurred in the timeframe noted, however, significant time was spent on acquiring the knowledge and experience to implement the change which has resulted in improved vision, among other health benefits. Change accelerated in 2013.
August 2019 - What a difference a year makes? Well… more like – what can happen in a year! Haven't written in a while, partially, because I was dealing with an emergency health issue that was affecting my eyesight. I only realized this in January 2019. And unbeknownst to me, it was slowly affecting me in most of 2018 as well.
But, first things first. Just had my annual eye exam – this time at an optometrist I visited in 2016 – Dr.Hsu at Vision Plus. ….and the results are the same as September 2018 (11 months ago). But better than when I visited him in 2016 by -0.25 less in each eye. Results are the in the DATA section. Still need to add the 2018 results - hopefully I can find the printouts!
Am I disappointed, well considering where I was earlier in 2019 – not exactly. Multiple things were affecting my health in the past year – negatively. Sometimes to go forward, we go backwards. The adventure to reach OPTIMAL HEALTH is not a straight line!
To read the rest – download this PDF.
November 2018 - Had an exam in September 2018 at a new optometrist I had not visited before. Actually, it was the same store as in 2015, but they had a new on-site optometrist. They had my old prescription. This new optometrist was curious as to how I was able to improve my vision. I gave her some pointers. Has she read Quiet Freedom? Yeah, people will be more astoundend when my vision returns to 20 / 20 without astigmatism and no surgery. Makes the face younger too this process. But let's focus on eyesight here.
And the results, disappointingly, were the same! My astigmatism was diagnosed back to -0.5 again. That was a positive. She had a different brand of equipment than what I recall seeing at other optometrists. That could be a factor. I remember the last two lens switches on the phoropter were very similar in focus - except one was a brighter image. I'm wondering if I chose the dimmer one - which more or less had the same sharpness of focus, would the result have been different (Down to -0.25 in my left)?. Another knock against me was I had the exam when heavy air pollution from forest fires, mostly in British Columbia, was lingering in the Seattle area. I couldn't reschedule for various reasons. The air quality during this time was on some days - the worst in the world. I know it was affecting people's health, did it affect my eyesight result? Here's a story about similar smoke affecting the San Francisco Bay Area - it talks about the eyes.
Exam aside, my real-world vision is still improving based on things I look at in similar lighting conditions. We shall just have to see next year. There could (finally!) be improvement again in my right eye next year as well - based on the emotions coming out / muscles relaxing.
On a recent trip abroad I also did a quick eye exam in Taipei, Taiwan. No phoropter fine-tuning, just an older model autorefractor - it was obvious. While there was no phoropter, the same individual manually manipulated some lenses. Though I think it was deceptive what he was doing. Anyway, regarding the autorefractor - I mention this because it gave a different score than the autorefractor in my most recent USA exam. I saw the printout - they didn't let me keep it! -0.25 WORSE in each eye. I've seen this mentioned elsewhere on the web. Technology has its limits and caveats. But the tech industry almost never mentions this (EMF / wireless radiation for example). If that was my optometrist -I would have been overprescribed. And that would mean eye strain! And declining vision! It was a cheap eye exam (Health care is cheap in Taiwan relative to the USA. Like super cheap. Like $5 cheap.), but came recommended by the hair stylist of my father.
I would not recommend that Taiwan optometrist, I'm sure there are better ones. But that wasn't the purpose of the trip, so not enough time to look for one. But once again, this is why it pays to get multiple opinions and be proactively involved in your own health. And don't become overly reliant on "high tech." Faulty LASIK eye lasers come to mind from a documentary I watched in the past year.
May 2018 - Not much to say other than vision continues to improve. I want to estimate my left is at 0.25, but I don't know. I do know that there are things I do frequently for work and when standing in the same place doing the same task, a wall of a couple hundred license plates on a wall (art installation) appears clearer and more readable - now at night. Earlier (2017) this was only readable in brighter conditions (daylight). Of course, seeing more things more clearly while driving. Noticing more too (Peripheral awareness). I suspect the astigmatism in my left eye won't go away until the focus returns to 0.00. In other words, the astigmatism appeared first many years ago. We'll see. The astigmatism also makes it difficult to precisely diagnose my vision on my eye charts. Right eye has relaxed a little, but probably won't see any change by the time of my next exam.
Also, my healing rate I realized recently was being negatively affected by exposure to secondary (environmental) microwave / RF radiation (EMFs). I've been in the process of eliminating and/or reducing my exposure as well as increasing my knowledge level well beyond what it was before. This has consumed a lot of my time recently as well as preparing for the 1st speaking event on Mind / No Mind. This exposure has also been negatively affecting my teeth, which is the weakest point of my body. Next update in September or October 2018. Recent upgrades to some programs I use for this site will hopefully allow me to make some much needed improvements - marked as future. (Upgraded to a laptop with a 4K screen but my main apps didn't fully support this which made them just a little bit harder to use, now they are compatible. Really can discren clarity between 4k and non-4k!)
In the past few months I learrned that prolonged RF radiation exposure from wi-fi / cell towers / microwave oven radiation can lead to cataracts. Since no one gets cataracts "overnight" that means that part of my vision improvement has likely been clearing of my lenses which may have experienced micro burns (Lack of a better word) due to my past RF exposure. I don't know this...but a future OCT test might be revealing. My OCT scores are already good, but could they be better? In other words, everyone exposed to prolonged RF likely has diminished eyesight due to damage from RF. "Pre-cataracts" we can call it. I have a placeholder for a future webpage on cataracts, how we get them, and how to avoid them!
November 2017 report - Vision continues to improve. Noticing more things at more light levels than before. It's strange to be going in the opposite direction as everyone else. I recently saw a couple of old friends and they are the same age as me and they have grey hair already. They probably just think it is aging, when in fact it is very specific things they do, that I no longer do. It might be called premature aging, which seems to be more common these days, but that's another story. On that note, I chuckle at some people's health routines and what is marketed as healthy, some of which I participated in before.
I'm not sure just how much effort (especially being the first), and scope of knowledge people realize was necessary for me to acquire, to do what I am now doing. Nor how different and unique it is to be improving your eyesight naturally in this span of time and at this rate of change. Nor the implications on overall health. There are much bigger plans than just improving eyesight, and depending on what you've read, you will see me talking about other aspects of health improvement. Or maybe people just think the improvement will just stop? Some people have commented to me on how remarkable it is. There's no secret, it's just self-education. And the most important thing to learn is encoded in Quiet Freedom.
I'm closing in on 44 years of age in this body. Most people guess 10-20 years less, and the only people who guess 10 years are those who have some idea of my background. No presbyopia, improving vision in all metrics (See note below on astigmatism). I'm not in "perfect" health, I still have some teeth/gum issues and some other minor issues, some of which I've had my whole life. Much of this may be detailed in the Optimal Body topic in the future.
**Oh, and I think my last optometrist visit overstated my astigmatism, it is still 0.5. Because when I try on my new glasses, I find them uncomfortable. Basically, I don't wear them. One of these days I'll get the lenses swapped out.
July 2017 report - The results are in. My left eye diagnosis has improved 33% since last July 2016 - 1 year. Overall improvement is now 60%. My right eye was measured at -2.25, back to what it was in 2015. So, 40% improvement off of lows again - now with more certainty as 2 exams indicate this. Really, I don't think there has been any measurable change though since 2015, in terms of focus (Brightness and peripheral vision improvements - yes). [See vision fluctuations note below] The way my muscles have been unwinding / relaxing, it is focused on the left side of my body more. This would make sense too, as my left eye worsened after my right eye was already quite bad, relatively speaking. So, in this reversal process, the left will improve mostly first before the right will fully heal. The official documents are in the DATA section. This new optometrist also did a test I never had before with an Optovue OCT (Optical coherence tomography) system. It measures the thickness of the retina, and ganglion cell complex (Try saying that twice!). I scored well on this exam, so no interior eye issues.
In this exam the optometrist noted I had a slightly worse astigmatism in my right eye. Either other optometrists have not been so thorough as she is, she has a different method / style for evaluating astigmatism, or there is a slightly more astigmatism for the moment as my body realigns and unwinds other muscles. Improvement is not a straight line. It will vary depending on one's current lifestyle and past history.
Feb 2017 interim anecdotal report - Continuing to notice more objects at farther away distances. More awareness of surroundings and more objects coming in to focus. For the most part, I am comfortable driving at night on local streets and freeways without any vision correction / glasses. I may occassionally wear glasses at night, but definitely not during the daytime - sunny or gray skies. Watching TV in a darkened room, I seldom use glasses now as well. TV is not as clear and bright as with glasses (weak right eye), but it is for the most part in focus. Recently renewed my driver's license and applied for what's called an Enhanced Driver's License. This required a vision test. I passed it without wearing glasses (nor contacts which I don't wear). Now, there is no restriction note on my driver's license stating that I need corrective lenses. Will post photos of the two licenses later. Again, next vision test in summer 2017. Another 4-5 months of improvement to look forward to.
Oct 2016 interim anecdotal report - recently returned from a 3 week trip to Europe - with the most time spent in very warm and sunny Portugal, and Southwest Spain. The sunlight did me good as I sense that my vision has improved again (More rods and cones, optic nerves?). Things seem brighter and again I am noticing things I didn't notice before in the distance and near. But, I won't know the official change until Summer 2017. But, I do feel comfortable driving in the daylight (sunny day) without using any glasses now! I was able to do this before legally, but I felt more comfortable wearing glasses. Gray and dark days and at night, I still prefer to use glasses.
--------------
As of August 2019
At current rate of improvement, I estimate 20 / 20 or -0.00 with no astigmatism in left eye will be achieved in mid late-2018 2021. possibly early 2019. As I only get an exam once a year, the date on which it becomes 20 / 20 will likely be a self-diagnosis at first with my wall mounted eye chart at home. Further improvements from there to get to the optimal range of 20 / 8 - 20 / 1 is most likely the creation of more rods & cones and biochemical / bioelectrical improvements in my body. My eyesight is improving at different rates. Improvement of right eye to 20 / 20 is estimated to take place by the year late-2020 TBD. Next vision check in fall 2020 (probably in October), though I may get a quick check in 1Q 2020 while traveling - free checkup. Since I've never done this before nor know of anyone who has improved their vision this way, there is uncertainty in these estimates.
Visions fluctuations: Vision fluctuates with recent diet - too much salt for example in a given time period - something which I have personally experienced in the span of a few minutes of eating too much salt. Too much sugar I am told by my optometrist will also do the same, though I have not noticed this personally something which I have noticed on several occassions recently. After a delay of 1 - 2 hours or even sooner, less than 30 minutes. I've found it depends on how much sugar is already in my system and your pace of consumption and what you eat the sugar laden item with. I have noticed how too much sugar in my system distorts my vision.
Another clue about how diet affects our eyes is when we first wake up. Our vision might not be entirely clear until our blood gets to circulating better or we stand up and let gravity help us. This could be due to too much pooling of sugars, salts, or other toxins.
My peripheral and side vision is also improving! There is only one optometrist I am aware of that measures this with an actual number (See to Play author Michael Peters). Perhaps someday I will get tested by him. Some of his findings noted in his book on how elite athlete eyes are different than average eyes, is located in the EYE UNIVERSITY page.
- WC Peace